| | |
| --- | --- |
| | |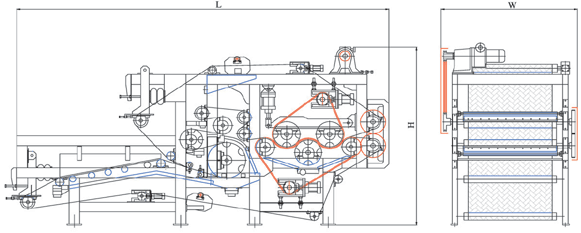 TYPE

CAPACITY
(㎥/hr)


FELT
WIDTH
(mm)

DRIVE
MOTOR
(kw)

DIMENSION

APPROX .
WEIGHT(kg)

L(mm)

W(mm)

H(mm)

BHF-650 TYPE

3.0~8.0

650

0.75

4425

1260

2235

3500

BHF-1000TYPE

4.0~9.5

1000

1.5

4425

1610

2235

4000

BHF-1500TYPE

5.0~12.5

1500

1.5

5190

1970

2400

6000

BHF-2000TYPE

6.0~16.0

2000

2.2

5190

2470

2400

9000

BHF-2500 TYPE

8.0~22.0

2500

2.2

5380

3490

2630

12000

BHF-3100 TYPE

9.0~26.0

3000

3.7

5380

4090

2630

14000

* The measurement of above goods is Changeable depends on specification change

High secession nature : Not stick Sludge
High Tensile Power : 0.2% Elongation Rate under 3.5Ton/1 ㎡
High Pressure & Excellent Restoration : Restoration Rate 99.9% after applied pressure 300Ton/㎡
Excellent ventilation nature : Air ventilation degree 7.64
Maintenance & Management Easiness
- Lifetime of Felt for Sludge dehydration : Over 3~4 Years
- You can reuse after clean ,if contaminated felt
Invention Patent : Patent No. 0284912 - "High absorption and stick dehydration non-woven & Manufacture Way"
Patent Device : Registration No. 02797560 - Sludge dehydration Facility of felt Type
New Technique Certification(NT Mark) Goods





Urban Sewage Sludge
Purification Treatment Sludge
Leather waste water Sludge
Life waste water & Human waste Treatment Sludge
Paper, Pulp Sludge
Coating, Metal surface treatment Sludge
Dyeing Sludge
Farmer Sludge
Stone processing Sludge
Industrial waste water Sludge etc.